How to Choose the Correct Breast Implant Size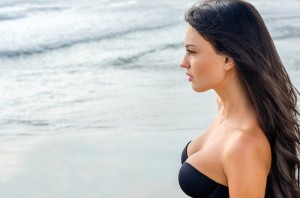 The primary goal of breast augmentation is to gain more volume in the breasts, while maintaining a natural, proportional appearance. Most women wish to undergo the enhancement procedure because they want to feel better about the way they look in clothes or a bathing suit. One of the most common questions I hear is what size breast implants they should choose. To help determine the size to reach a patient's aesthetic goals, I consider several factors.
The desired size, shape and contour of the implants are chosen based on the patient's breast dimensions, skin and muscle laxity, and aesthetic goals. The height, width, projection, and drooping of the breasts are all examined carefully. For example, a young patient may have a tighter skin envelope and muscle pocket; whereas an older, post-pregnancy patient may have a looser skin envelope and muscle pocket with loss of volume, particularly in the upper poles of the breasts. While these types of patients may have similar goals, they require differing implant sizes and shapes.
Another factor that affects the selection of breast implants is symmetry. It is not uncommon for a patient's breasts to be uneven. When this problem occurs, the patient may need two different sizes of implants to achieve a balanced aesthetic result. Occasionally, additional procedures might be necessary to correct this asymmetry.
Schedule a Consultation
To get an idea of how different breast implant sizes can change how you look, feel free to browse through my before and after gallery. To schedule your consultation with Dr. Mosier, please contact my practice today.