Although pregnancy and child-rearing can be some of life's greatest gifts, many new moms have trouble getting their bodies back to their pre-motherhood figures. At the Plastic Surgery Center of Austin, Drs. David M. Mosier and Steven Holzman offer the Mommy Makeover procedure; a custom-tailored combination of procedures designed to address a number of aesthetic issues and geared toward restoring your body and your self-esteem.
Contact our office if you are interested in learning more about Mommy Makeover, or if you would like to schedule a consultation.
The Mommy Makeover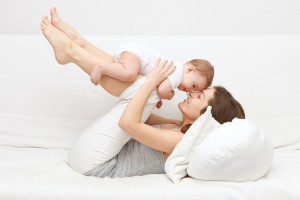 After pregnancy, a number of body features have likely been affected by the physical changes your body has gone through – specifically, the breasts, abdomen, and even the appearance of your face. A Mommy Makeover can work to address a number of issues, including:
Reduce extra skin and fat in the midsection and tighten the remaining skin
Eliminate sagginess in the breasts
Eliminate stubborn fat pockets in a variety of body areas
Reduce the appearance of stretch marks
Procedures are also available to improve the appearance of lines and wrinkles in the face that may have been brought on by the stress and exhaustion that can accompany pregnancy and bringing up young children.
Mommy Makeover Procedures
A Mommy Makeover involves the combination of aesthetic enhancement procedures performed in tandem, or over a series of appointments. At your initial consultation, one of our plastic surgeons will work with you to develop a treatment plan that incorporates the procedures that will be most beneficial to your needs. A Mommy Makeover can include:
Breast Lift
Excess fat and skin that accumulate in the breasts during pregnancy often linger after childbirth, giving the breasts a sagging appearance. Breast lift surgery addresses this by lifting the breasts to a higher position and eliminating extra skin, giving the breasts a smoother, perkier aesthetic.
Breast Augmentation with Implants
New moms who would like to take breast enhancement one step further than a breast lift and add volume and new contour to the bustline may benefit from breast augmentation with implants. Our plastic surgeons can give you fuller, more sensual-looking breasts that are more proportionate to your body frame.
Tummy Tuck (Abdominoplasty)
A tummy tuck (abdominoplasty surgery) addresses one of the most visible signs of physical change after pregnancy: the abdomen. This procedure tightens the abdominal muscles and lifts the overlying skin, eliminating excess skin and pulling the remaining skin taut for a smoother, more athletic-looking midsection.
Liposuction
One of the most popular plastic surgery procedures performed today, liposuction can get rid of stubborn, excess fat pockets in virtually any body area. This procedure is especially useful for areas of fat that have been unresponsive to even the most rigorous diet and exercise regimens.
Cosmetic Injectable Treatment
Cosmetic injectable treatment such as BOTOX® injections can reduce the appearance of premature aging and wrinkling in the face, while dermal fillers such as JUVEDERM® can augment facial features such as the lips and cheeks for a newly contoured facial aesthetic.
Contact us today if you have any questions, or if you would like to schedule a consultation for Mommy Makeover.