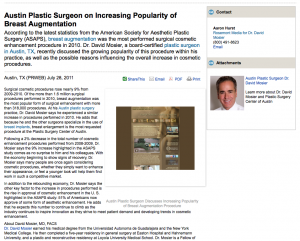 According to the latest statistics from the American Society for Aesthetic Plastic Surgery (ASAPS), breast augmentation was the most performed surgical cosmetic enhancement procedure in 2010. Dr. David Mosier, a board-certified plastic surgeon in Austin, TX, recently discussed the growing popularity of this procedure within his practice, as well as the possible reasons influencing the overall increase in cosmetic procedures.
Surgical cosmetic procedures rose nearly 9% from 2009-2010. Of the more than 1.6 million surgical procedures performed in 2010, breast augmentation was the most popular form of surgical enhancement with more than 318,000 procedures. At his Austin plastic surgery practice, Dr. David Mosier says he experienced a similar increase in procedures performed in 2010. He adds that because he and the other surgeons specialize in the use of breast implants, breast enlargement is the most requested procedure at the Plastic Surgery Center of Austin.
Following a 2% decrease in the total number of cosmetic enhancement procedures performed from 2008-2009, Dr. Mosier says the 9% increase highlighted in the ASAPS study comes as no surprise to him and his colleagues. With the economy beginning to show signs of recovery, Dr. Mosier says many people are once again considering cosmetic procedures, whether they simply want to enhance their appearance, or feel a younger look will help them find work in such a competitive market.
In addition to the rebounding economy, Dr. Mosier says the other key factor to the increase in procedures performed is the rise in approval of cosmetic enhancement in the U. S. highlighted in the ASAPS study: 51% of Americans now approve of some form of aesthetic enhancement. He adds that he expects this number to continue to climb as the industry continues to inspire innovation as they strive to meet patient demand and developing trends in cosmetic enhancement.
About David Mosier, MD, FACS
Dr. David Mosier earned his medical degree from the Universidad Autonoma de Guadalajara and the New York Medical College. He then completed a five-year residency in general surgery at Easton Hospital and Hahnemann University, and a plastic and reconstructive residency at Loyola University Medical School. Dr. Mosier is a Fellow of the American College of Surgeons, former president and active member of the Austin Society of Plastic Surgery, and a member of the Texas Society of Plastic Surgeons and the Texas Medical Society.
The Plastic Surgery Center of Austin is located at 6818 Austin Center Blvd. Ste. 206 in Austin, TX 78731, and can be reached at (512) 592-3115, or found online at austinplasticsurgeons.com or the Austin Plastic Surgeons Facebook page.
###