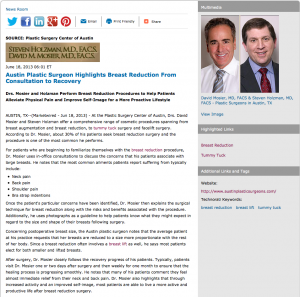 Drs. Mosier and Holzman perform breast reduction procedures to help patients alleviate physical pain and improve self-image for a more proactive lifestyle.
Austin, TX – At the Plastic Surgery Center of Austin, Drs. David Mosier and Steven Holzman offer a comprehensive range of cosmetic procedures spanning from breast augmentation and breast reduction, to tummy tuck surgery and facelift surgery. According to Dr. Mosier, about 30% of his patients seek breast reduction surgery and the procedure is one of the most common he performs.
For patients who are beginning to familiarize themselves with the breast reduction procedure, Dr. Mosier uses in-office consultations to discuss the concerns that his patients associate with large breasts. He notes that the most common ailments patients report suffering from typically include:
Neck pain
Back pain
Shoulder pain
Bra strap indentions
Once the patient's particular concerns have been identified, Dr. Mosier then explains the surgical technique for breast reduction along with the risks and benefits associated with the procedure. Additionally, he uses photographs as a guideline to help patients know what they might expect in regard to the size and shape of their breasts following surgery.
Concerning postoperative breast size, the Austin plastic surgeon notes that the average patient at his practice requests that her breasts are reduced to a size more proportionate with the rest of her body. Since a breast reduction often involves a breast lift as well, he says most patients elect for both smaller and lifted breasts.
After surgery, Dr. Mosier closely follows the recovery progress of his patients. Typically, patients visit Dr. Mosier one or two days after surgery and then weekly for one month to ensure that the healing process is progressing smoothly. He notes that many of his patients comment they feel almost immediate relief from their neck and back pain. Dr. Mosier also highlights that through increased activity and an improved self-image, most patients are able to live a more active and productive life after breast reduction surgery.
"Breast reduction surgery is a rewarding surgery for both me and the patient," says Dr. Mosier. Having performed a large volume of breast reduction surgeries in his 18 years of practice, the Austin plastic surgeon says he has been able to refine his surgical technique to deliver optimal results: "I always strive for the best possible results. Years of experience and meticulous technique have allowed me to attain outstanding results for my patients."
About David Mosier, MD, FACS
A graduate of Vanderbilt University, Dr. David Mosier earned his medical degree at Universidad Autonoma de Guadalajara and New York Medical College in Valhalla, New York. He is a Fellow of the American College of Surgeons and a member of several prestigious medical organizations including the Austin Society of Plastic Surgery, the Texas Society of Plastic Surgeons, and more. Additionally, he is certified by the American Society of Plastic and Reconstructive Surgeons and serves on the staff at all Austin and Round Rock area hospitals. Dr. Mosier is available for interview upon request.
About Steven Holzman, MD, FACS
A graduate of the University of Texas, Dr. Steven Holzman received his medical degree from the University of Texas Health & Science Center in Houston. He is a Fellow of the American College of Surgeons and also an active member of several prominent medical associations including the Texas Society of Plastic Surgery and the Austin Society of Plastic Surgeons. While in residency, Dr. Holzman taught general surgery at Tufts Medical School in Boston, as well as plastic surgery and emergency medicine at the University of Florida. He is available for interview upon request.