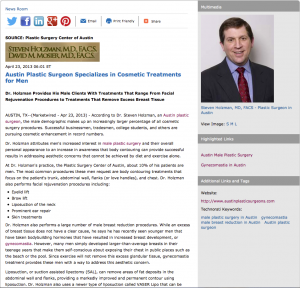 Dr. Holzman provides his male clients with treatments that range from facial rejuvenation procedures to treatments that remove excess breast tissue.
Austin, TX – According to Dr. Steven Holzman, an Austin plastic surgeon, the male demographic makes up an increasingly larger percentage of all cosmetic surgery procedures. Successful businessmen, tradesmen, college students, and others are pursuing cosmetic enhancement in record numbers.
Dr. Holzman attributes men's increased interest in male plastic surgery and their overall personal appearance to an increase in awareness that body contouring can provide successful results in addressing aesthetic concerns that cannot be achieved by diet and exercise alone.
At Dr. Holzman's practice, the Plastic Surgery Center of Austin, about 10% of his patients are men. The most common procedures these men request are body contouring treatments that focus on the patient's trunk, abdominal wall, flanks (or love handles), and chest. Dr. Holzman also performs facial rejuvenation procedures including:
Eyelid lift
Brow lift
Liposuction of the neck
Prominent ear repair
Skin treatments
Dr. Holzman also performs a large number of male breast reduction procedures. While an excess of breast tissue does not have a clear cause, he says he has recently seen younger men that have taken bodybuilding hormones that have resulted in increased breast development, or gynecomastia. However, many men simply developed larger-than-average breasts in their teenage years that make them self-conscious about exposing their chest in public places such as the beach or the pool. Since exercise will not remove this excess glandular tissue, gynecomastia treatment provides these men with a way to address this aesthetic concern.
Liposuction, or suction assisted lipectomy (SAL), can remove areas of fat deposits in the abdominal wall and flanks, providing a markedly improved and permanent contour using liposuction. Dr. Holzman also uses a newer type of liposuction called VASER Lipo that can be used in addition to standard liposuction. VASER Lipo improves on traditional liposuction by utilizing an ultrasonic probe to help break down more stubborn areas of fatty deposits.
Dr. Holzman highlights that the successful correction of gynecomastia and liposuction for men are still dependent on experience and having a good eye for "what looks right." He suggests that the best way to avoid undesirable results is to avoid doing "too much"—a skill Dr. Holzman says can be difficult to acquire, but one that he has learned through years of regularly treating male patients.
The recovery period for these procedures is fairly short. Dr. Holzman typically sees Austin plastic surgery patients on the fifth postoperative day for a followup. Gynecomastia treatment and liposuction patients are able to resume normal activities after five days, and unless they are doing strenuous physical labor, they will be able to return to their jobs at that time with a rejuvenated body and a boosted level of confidence.

About Steven Holzman, MD, FACS
Dr. Steven Holzman is a graduate of the University of Texas in Austin and earned his medical degree at the University of Texas Health & Science Center. In addition to being included on Texas Monthly's "Best Plastic Surgeon in Austin" list for six years in a row, Dr. Holzman has taught general surgery at Tufts Medical School in Boston, Massachusetts and plastic surgery and emergency medicine at the University of Florida in Gainesville. He is available for interview upon request.