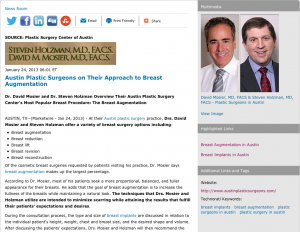 Dr. David Mosier and Dr. Steven Holzman overview their Austin plastic surgery center's most popular breast procedure: The Breast Augmentation
Austin, TX – At their Austin plastic surgery practice, Drs. David Mosier and Steven Holzman offer a variety of breast surgery options including:
Breast augmentation
Breast reduction
Breast lift
Breast revision
Breast reconstruction
Of the cosmetic breast surgeries requested by patients visiting his practice, Dr. Mosier says breast augmentation makes up the largest percentage.
According to Dr. Mosier, most of his patients seek a more proportional, balanced, and fuller appearance for their breasts. He adds that the goal of breast augmentation is to increase the fullness of the breasts while maintaining a natural look. The techniques that Drs. Mosier and Holzman utilize are intended to minimize scarring while attaining the results that fulfill their patients' expectations and desires.
During the consultation process, the type and size of breast implants are discussed in relation to the individual patient's height, weight, chest and breast size, and the desired shape and volume. After discussing the patients' expectations, Drs. Mosier and Holzman will then recommend the most suitable procedure, type of implant, shape, volume, and positioning to achieve the patients' goals.
The two Austin plastic surgeons work at state of the art hospitals and use top-notch operating room teams for all breast augmentation procedures. Dr. Mosier says this environment allows him and his partner to reduce the typical operative time for a breast augmentation procedure to 45-60 minutes in most cases. As a result, patients spend less time under anesthesia and therefore have a lower risk of complications from surgery.
In addition to primary breast augmentation procedures, Dr. Mosier says that he frequently evaluates and treats patients who have unsatisfactory results or complications from previous breast augmentation surgery performed by other surgeons. Both Drs. Mosier and Holzman take pride in spending the time and effort to personally evaluate each patient and explain in detail the patients' options in regard to breast surgery.
About David Mosier, MD, FACS
Dr. David Mosier is a graduate of Vanderbilt University in Nashville, Tennessee. He earned his medical degree at Universidad Autonoma de Guadalajara and New York Medical College in Valhalla, New York. Dr. Mosier is on staff at all Austin and Round Rock area hospitals and has been included on the list for "Best Plastic Surgeon in Austin" by the Texas Monthly for six years in a row. He is available for interview upon request.
About Steven Holzman, MD, FACS
Dr. Steven Holzman is a graduate of the University of Texas in Austin. He earned his medical degree at the University of Texas Health & Science Center in Houston, Texas. Dr. Holzman has taught general surgery at Tufts Medical School in Boston, Massachusetts and plastic surgery and emergency medicine at the University of Florida in Gainesville. He has also been included on Texas Monthly's "Best Plastic Surgeon in Austin" list for six years in a row. Dr. Holzman is available for interview upon request.