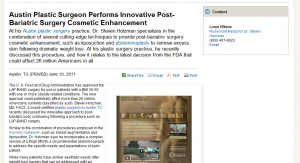 At his Austin plastic surgery practice, Dr. Steven Holzman specializes in the combination of several cutting-edge techniques to provide post-bariatric surgery cosmetic enhancement, such as liposuction and abdominoplasty to remove excess skin following dramatic weight loss. At his plastic surgery practice, he recently discussed this procedure, and how it relates to the latest decision from the FDA that could affect 26 million Americans in all.
The U. S. Food and Drug Administration has approved the LAP-BAND surgery for use in patients with a BMI 30-35 with one or more obesity-related conditions. The new approval could potentially affect more than 26 million Americans currently classified as such. Steven Holzman, MD, FACS, a board-certified plastic surgeon in Austin, TX, recently discussed his innovative approach to post-bariatric body contouring following a procedure such as LAP-BAND surgery.
Similar to the combination of procedures employed in the mommy makeover, such as breast augmentation and liposuction, Dr. Holzman says he incorporates a complex version of a thigh lift into a circumferential abdominoplasty to address the specific needs and expectations of each patient.
While many patients have similar aesthetic needs after weight loss surgery that can be addressed with an abdominoplasty or liposuction, Dr. Holzman says the combination of procedures known as a lower body lift can improve body contour by removing excess skin and creating a slimmer profile from head to toe. Because dramatic weight loss affects the entire body, Dr. Holzman says he is able to improve the entire body contour by including an inner and outer thigh lift. He adds that by improving a patient's aesthetic appearance, they are able to continue the healing process and pursuit of a healthier lifestyle as they begin to see their hard work reflected in their physical appearance.
Ultimately, Dr. Holzman says the circumferential abdominoplasty can often address the cosmetic enhancement needs of his post-bariatric body contouring patients. However, many patients decide to undergo some variation of the entire body contouring process because they hope to supplement their healthy choices with an improved aesthetic appearance.
About Dr. Holzman
Steven Holzman, MD, FACS earned his medical degree from the University of Texas Health and Science Center in Houston, TX. He then completed his surgical residency at the University of Arkansas for Medical Sciences, and went on to complete his plastic surgery residency at the University of Florida in Gainesville. Dr. Holzman has also earned a number of prestigious academic appointments, including teaching general surgery at Tufts Medical School, and teaching plastic surgery and emergency medicine at the University of Florida. He is a fellow of the American College of Surgeons, and a member of the Austin Society of Plastic Surgeons, and the Texas Society of Plastic Surgery.
Plastic Surgery Center of Austin is located at 6818 Austin Center Blvd., Suite 206 in Austin, TX 78731, and can be reached at (512) 592-3115, or found online at www.austinplasticsurgeons.com or the Austin Plastic Surgeons Facebook page.
###