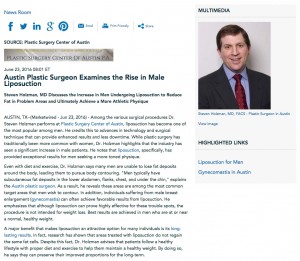 Steven Holzman, MD discusses the increase in men undergoing liposuction to reduce fat in problem areas and ultimately achieve a more athletic physique.
Austin, TX – Among the various surgical procedures Dr. Steven Holzman performs at Plastic Surgery Center of Austin, liposuction has become one of the most popular among men. He credits this to advances in technology and surgical technique that can provide enhanced results and less downtime. While plastic surgery has traditionally been more common with women, Dr. Holzman highlights that the industry has seen a significant increase in male patients. He notes that liposuction, specifically, has provided exceptional results for men seeking a more toned physique.  
Even with diet and exercise, Dr. Holzman says many men are unable to lose fat deposits around the body, leading them to pursue body contouring. "Men typically have subcutaneous fat deposits in the lower abdomen, flanks, chest, and under the chin," explains the Austin plastic surgeon. As a result, he reveals these areas are among the most common target areas that men wish to contour. In addition, individuals suffering from male breast enlargement (gynecomastia) can often achieve favorable results from liposuction. He emphasizes that although liposuction can prove highly effective for these trouble spots, the procedure is not intended for weight loss. Best results are achieved in men who are at or near a normal, healthy weight.
A major benefit that makes liposuction an attractive option for many individuals is its long-lasting results. In fact, research has shown that areas treated with liposuction do not regain the same fat cells. Despite this fact, Dr. Holzman advises that patients follow a healthy lifestyle with proper diet and exercise to help them maintain a healthy weight. By doing so, he says they can preserve their improved proportions for the long-term.
As liposuction has gained more attention among men, Dr. Holzman has found his patients to be very pleased with their outcomes, gaining newfound confidence in their appearance that translates to their career and social life. "Men deserve to have a body that improves their self-esteem and confidence, and liposuction delivers." He recommends anyone considering the surgery to consult with a board-certified plastic surgeon to ensure they are receiving the safest care possible with minimal risk and optimal results.
About Steven Holzman, MD
Dr. Holzman has been in private practice in Austin for 17 years. He earned his medical degree from the University of Texas Health & Science Center in Houston and completed eight years of residency training at the University of Arkansas for Medical Sciences in Little Rock. In addition to his work with Plastic Surgery Center of Austin, Dr. Holzman strives to stay active within the medical community through his involvement in professional organizations, including the Austin Society of Plastic Surgeons and the Texas Society of Plastic Surgery. He is also a Fellow of the American College of Surgeons. Dr. Holzman is available for interview upon request.
For more information, visit austinplasticsurgeons.com.
Contact:
Plastic Surgery Center of Austin
6818 Austin Center Boulevard
Suite 206
Austin, TX 78731
(512) 592-3115
Rosemont Media
(858) 200-0044
www.rosemontmedia.com