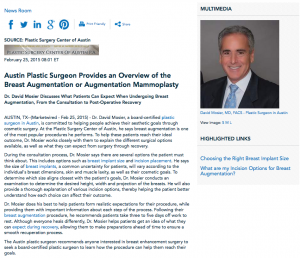 Dr. David Mosier discusses what patients can expect when undergoing breast augmentation, from the consultation to post-operative recovery.
Austin, TX — Dr. David Mosier, a board-certified plastic surgeon in Austin, is committed to helping people achieve their aesthetic goals through cosmetic surgery. At the Plastic Surgery Center of Austin, he says breast augmentation is one of the most popular procedures he performs. To help these patients reach their ideal outcome, Dr. Mosier works closely with them to explain the different surgical options available, as well as what they can expect from surgery through recovery.
During the consultation process, Dr. Mosier says there are several options the patient must think about. This includes options such as breast implant size and incision placement. He says the size of breast implants, a common uncertainty for patients, will vary according to the individual's breast dimensions, skin and muscle laxity, as well as their cosmetic goals. To determine which size aligns closest with the patient's goals, Dr. Mosier conducts an examination to determine the desired height, width and projection of the breasts. He will also provide a thorough explanation of various incision options, thereby helping the patient better understand how each choice can affect their outcome.
Dr. Mosier does his best to help patients form realistic expectations for their procedure, while providing them with important information about each step of the process. Following their breast augmentation procedure, he recommends patients take three to five days off work to rest. Although everyone heals differently, Dr. Mosier helps patients get an idea of what they can expect during recovery, allowing them to make preparations ahead of time to ensure a smooth recuperation process.
The Austin plastic surgeon recommends anyone interested in breast enhancement surgery to seek a board-certified plastic surgeon to learn how the procedure can help them reach their goals.
About David Mosier, MD, FACS
Dr. Mosier is board certified by the American Society of Plastic and Reconstructive Surgeons. He earned his medical degree from Universidad Autonoma de Guadalajara and New York Medical College in Valhalla, New York. Dr. Mosier then completed a five-year general surgery residency at Easton Hospital and Hahnemann University in Philadelphia, as well as a three-year plastic and reconstructive surgery residency at Loyola University Medical School in Chicago. He is active in several medical organizations, including being a Fellow of the American College of Surgeons, a member of the Texas Society of Plastic Surgeons, and a member and former president of the Austin Society of Plastic Surgery. Dr. Mosier is available for interview upon request.
For more information about Dr. Holzman, Dr. Mosier, and the Plastic Surgery Center of Austin, visit austinplasticsurgeons.com.
Contact:
Plastic Surgery Center of Austin
6818 Austin Center Boulevard
Suite 206
Austin, TX 78731
(512) 592-3115
Rosemont Media
(858) 200-0044
www.rosemontmedia.com